While most casual campers only go on trips during warm weather, others don't want a little cold or snow to put a stop to their outdoor adventures. Even with a high-quality sleeping bag and tent things can get chilly and unpleasant. Thankfully there are a few heaters on the market that are ideal for such a situation.
Bottom Line Up Front: Personally, I would recommend the Mr. Heater Hunting Buddy available here if you just need a good all-around solution.
Of course, continue reading for my full analysis + other tent heating options to consider…
Heaters designed for tents and camping have a few benefits:
They are ideal for quickly heating up a tent before bed
You can use them to keep you warm while you change clothes
Versatile enough that you can use them at home or during other outdoor activities
Peace of mind that if temps drop far below the forecast, you'll be safe
Tent heaters are difficult to find but here are 3 of the best:
#1 Mr. Heater Hunting Buddy Portable Heater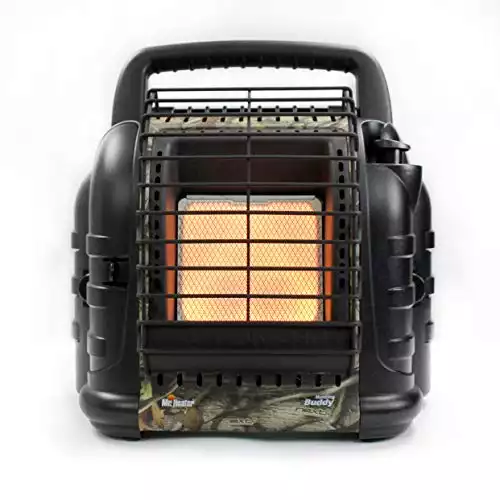 Specs and Features:
Retails for $140

check this listing for the latest live prices

Restricted in Massachusetts and Canada (separate model available)
6,000 to 12,000 BTU per hour
Will heat up to a 300 sq. ft. space
Dual High and Low heat settings
Single knob for starting and maintaining heat settings
Quiet electric ignition
Propane heater system
For use with a 1lb propane cylinder
Optional accessories allow for up to 20lb propane tank
Swivel regulators
Built-in safety features for low oxygen and tip-over
Weighs 16lbs (w/o propane)
The Mr. Heater Hunting Buddy is an attractive camo-print heater that was designed with hunters in mind. Though it was originally marketed as safe heat for hunting blinds, deer stands, ice fishing shacks, and other such activities, it is completely safe to use within a tent.
This model is best saved for either very large camping tents or large basecamp portable shelters. The Hunting Buddy can produce up to 12,000 BTUs and will keep you warm in frigid temperatures. Due to the power of this heater, special care needs to be taken to keep tent walls, clothing, and gear, as well as anything else that is flammable or may melt away from it.
This heater uses a 1lb propane cylinder, with the option for a larger cylinder if you buy the proper hoses (sold separately). If you go this route be sure to only use Mr. Heater hoses or you will void the warranty and potentially injure yourself.
Similar to other Buddy heaters, the Hunting Buddy has two very important safety features, which are necessary for safe tent use.
The first feature is the ODS or Oxygen Detection Safety pilot. This sensor can tell when oxygen levels have become too low and will automatically shut off the heater.
The second safety feature is the accidental tip-over sensor. While no heater should be used unsupervised, if it does get tipped over it will turn off immediately.
If you only plan to use a heater in a tent, the Hunting Buddy would really be "too much". However, if you are someone that spends a lot of time outdoors in winter and needs a substantial heater for a variety of purposes, this one would be ideal.
#2 Mr. Heater Little Buddy Heater
Specs and features:
Retails for $82
Restricted in Massachusetts and Canada (separate model available)
3,800 BTU per hour
Will heat up to 100 sq ft
Uses a 1lb propane cylinder
Single-button ignition
Compact 8″ round stand saves precious floor space
Tip-Over and ODS safety features
Silent heater and odor-free
Approximate run time of 5.6 hours
Will perform up to 7,000-foot elevation
Weighs only 5.85lbs (w/o propane)
If the Hunting Buddy is just too much heat for your purposes, here is the perfect alternative. The Little Buddy Heater is designed for heating up small spaces up to 100 sq ft, making it ideal for warming up tents while camping. It is super compact yet stable. In the event it is accidentally tipped over the heater will automatically shut off.
Getting this heater working is super simple. Install a new 1lb propane cylinder, place it in a safe area, then press in and hold the ignition button. The Piezo sparking mechanism will ignite the propane. Be sure the heater has 30″ of space above it, 6″ of space at the sides, and 24″ of space in front.
The rear doesn't need a gap of space but you will probably still need to move the heater away from tent walls unless they are totally vertical for that 30″ overhead. Moving the heater is simple since there is a built-in handle.
Just like the Hunting Buddy, the Little Buddy has the crucial ODS sensor which ensures you are kept safe. Even though this is a smaller heater, it's always best to err on the side of caution. There should be some ventilation in your tent while using this product- either open vents built into your particular tent or crack a window.
#3 Coleman BlackCat Catalytic Heater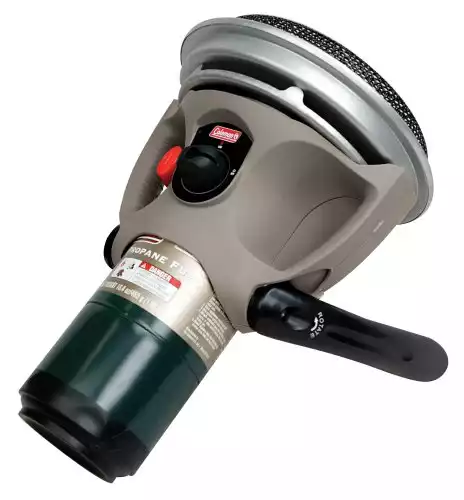 Coleman has a few propane camping heaters available and is the main competition for Mr. Heater. While Mr. Heater has some advantages, the Coleman BlackCat is a great choice for the casual camper needing some extra heat on winter trips.
Specs and Features:
Roughly 10″ x 9.5″ x 7.5″
Weighs 3 lbs 12 oz
Quick start button ignition
8″ round flameless head radiates heat
Built-in pressure regulation for consistent heat output
3,000 BTU max
Will heat for 7hrs on high or 14hrs on low (1,500 BTU)
Works with 16.4oz propane canisters
The BlackCat is similar in style to the Little Buddy, in that the propane canisters screws into the head and it placed in a stand. It has a handle for easy carrying as well.
This heater has two settings, which is always beneficial. The 1,500 BTU Low setting is great for cool days or to conserve propane. The High setting, 3,000 BTU, is best for quickly heating up a tent or getting you toasty while changing clothes.
Unfortunately, the BlackCat heater doesn't an ODS sensor but the way it is designed will keep you safe. This style of heater is a catalytic heater. This means it uses a platinum catalyst to which the oxygen and propane react to. Some users report a slight odor with catalytic heaters but it actually burns at a lower temperature and, therefore, burns cleaner. There are no open flames and no carbon monoxide which is why the BlackCat is safe for inside use.
When researching tent heaters you'll find a lot of mixed opinions on them. Some love using them and rely on them for warmth during fall or winter camping trips. Others refuse to use them due to worry about carbon monoxide poisoning or an accidental fire.
The Final Heat
While all 3 heaters above are safe, it is incredibly important to always follow the manufacturer's instructions and use common sense. Open up your tent vents or leave a window cracked just enough for airflow exchange. Limit the use of the heater to only when you really need it, for example, getting the tent really warm then turning it off and hopping into your sleeping bag for the night.
Typically I recommend propane heating systems, but I have also seen gas heater options out there. I've also seen electric space heaters, but of course, they depend on the power sources available to supply the heater. The advantage of an electric heater is that they are typically more portable without clunky propane canisters.
For further safety, never rely solely on a heater to get you through a cold night. If the product fails you could be in a very dangerous situation. Always, always have the right cold-weather gear rated for the temperatures you may experience.
Remember, a heater is a luxury but shouldn't be your only method of staying warm.
Further read: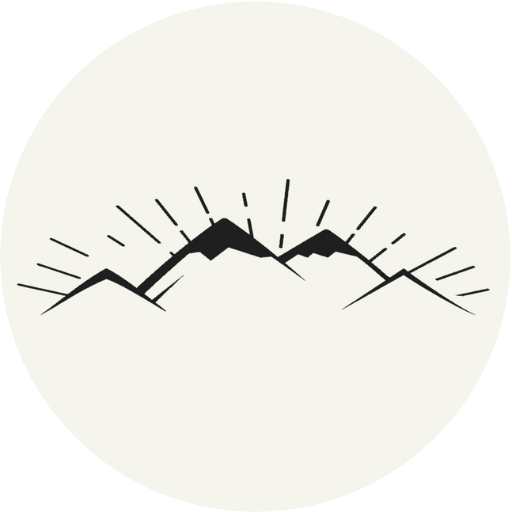 The All-Outdoors Guide team is comprised of enthusiastic experts that enjoy helping others that aspire to be better at outdoor fun. Part of that is making sure you have the right gear and information when it's time to go out and have fun. Some of our team have accomplished amazing feats like climbing 6000 feet to the top of mountains, others have explored every dirt trail they could find and we even have some people that have backpacked solo on various continents. No matter what our readers want to learn and do, our team is here to help them accomplish those goals.