When it comes to hiking, California will easily spoil you and exceed all your expectations. This beautifully diverse state spreads over 163,696 square miles, and its topography includes snowy mountains, rocky plateaus, ancient forests, fertile valleys, and arid deserts.
It would, therefore, be much easier to create a list of what you can't see or do in California, than putting together all the vast possibilities the Golden State offers.
California boasts many superlatives related to its natural environment and climate. About 45 percent of its surface area is covered by forests – only Alaska can beat California in this aspect. The highest peak, Mount Whitney (14,505 feet), can also be found in California, just like the tallest waterfall in the US, the Yosemite Fall with 2,425 feet vertical drop-off.
You can also visit the hottest spot in the whole world in here – the infamous Death Valley. And California is also home to 9 national parks, more than any other state in the US. Already feel tempted to hit some of its trails?
First, you have to decide which one will it be. But that's not an easy task since the best hiking trails in California can contain thousands of miles of wonderful trails.
To make this decision a bit easier, we have put together our list of the 10 best hiking trails in California you should definitely consider. Some of them are easy, others are pretty demanding. They are located all over the state and cover different types of environments.
But before you get to the list, please pay attention to several important tips that should help you prepare responsibly for hiking in California.
What you should know about the best hiking trails in California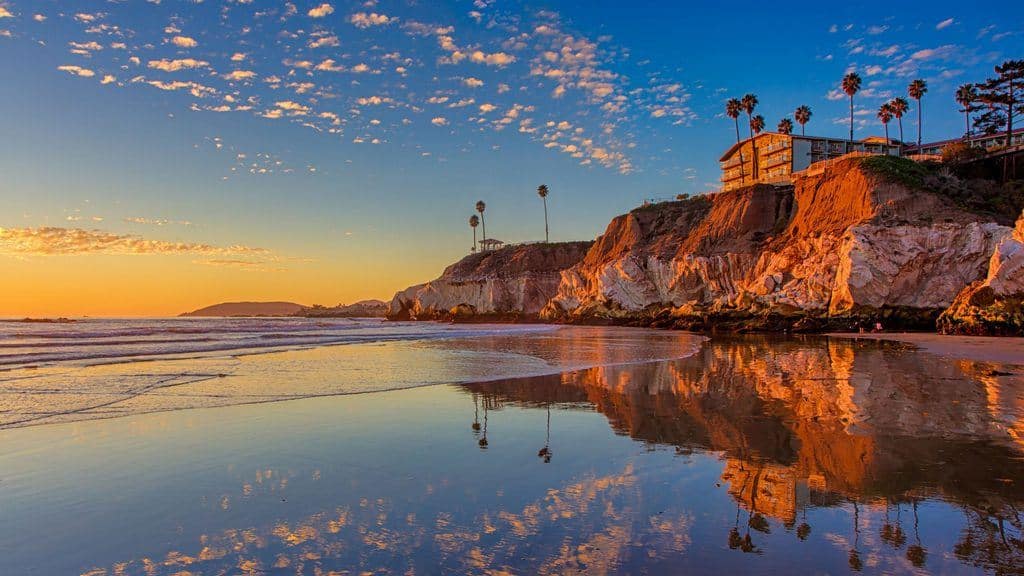 California is a beautiful, open-minded, and exciting state. But at the same time, it's also a land of extreme weather, flash floods, wildfires, snowstorms, and potentially dangerous animal species. If you're new to hiking, or just new to hiking in California, you should plan your adventure responsibly and get the proper gear.
Here is our list of factors you should consider and prepare for before you leave the trailhead:
Weather
The climate in California differs greatly depending on the proximity of the coast, latitude, and altitude of the place you are going to visit. Basically, you can experience all sorts of climate from polar to desert hot in California. Your outdoor apparel and equipment should always suit the environment and climate properly.
When it comes to weather in the wilderness, never take anything for granted. Always be prepared for a bit of unpredictability and sudden change. That applies especially to hikes that involve overnight camping. If you need a little help with choosing the best equipment, read our guide to finding the best tent or sleeping systems.
If you don't have much experience with hiking in California, do your homework and learn as much as possible about the area you are about to visit. Stay updated about recent weather forecasts and warnings. Flash floods and wildfires don't bypass natural parks, and you surely don't want to be caught up in such a situation.
Animals
California is home to several animal species, which could possibly harm you on or around the trail. Most importantly, there are two subspecies of black bears living here – the northwestern black bear and the California black bear.
It's estimated that about 16,000 to 24,000 individual bears may currently roam Yosemite National Park, Sierra Nevada Mountains, and several other adjacent areas. Though unprovoked bear attacks in the wilderness are very rare, you should be prepared for the scarce possibility and learn how to increase your chances to survive it.
Always carry bear pepper spray with you. In case you find yourself in the middle of a tense bear situation, stand your ground and try to scare the bear off by making a lot of noise. Try to back off slowly and steadily, but never run or climb trees. Bears are pretty good runners and even better climbers.
Aside from bears, in California, you can also come across mountain lions, rattlesnakes, scorpions, and several poisonous insects and spiders. If you want to learn more about wildlife in California, check out this great database.
Food and water
Staying hydrated is absolutely crucial, especially in a hot and dry environment, which is typical for the southern parts of the state. But even if you plan to hike in higher altitudes and cooler temperatures, you definitely shouldn't underestimate this important factor. The abundance of natural water sources can be very helpful, but for your safety, consider getting some filtering system on board.
As for the food, it's always important to pack some energetic snacks, even if you're planning just a short and undemanding hike. Sudden weakness caused by different factors such as low blood sugar, low blood pressure, etc. can be managed (at least momentarily) with some boosting food.
Of course, if you plan a thru-hike or just regular overnight camping in the wilderness, you should plan your meals in more detail. Read our Best food to take hiking article and get inspired.
Ready? Here's our list of top 10 hiking trails in California:
The Four Mile Trail, Yosemite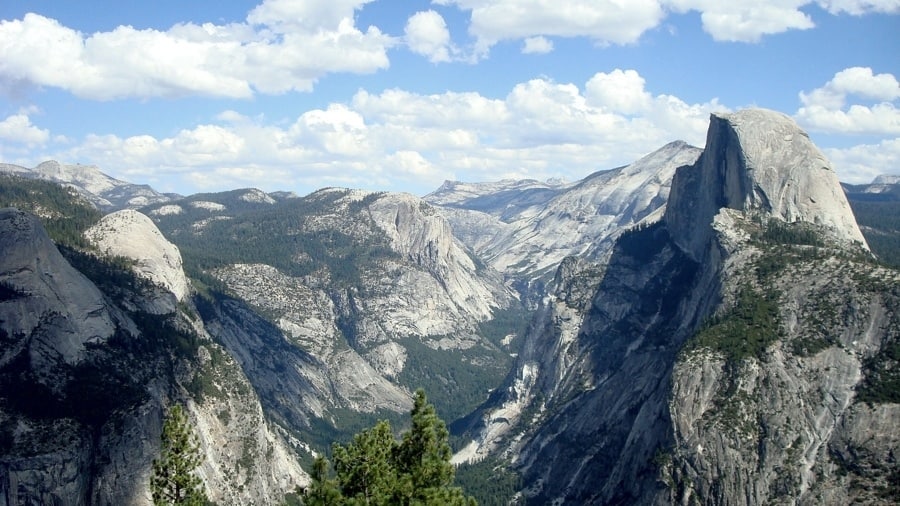 Yosemite National Park is definitely the most famous national park in California – and surely one of the best and most popular ones in the US.
The park covers an area of 748,436 acres, it was designated a World Heritage site in 1984, and it's sought after mainly for its majestic granite cliffs, wonderful waterfalls, pristine streams, sequoia groves, mountain lakes, and ancient glaciers. Almost 95% of Yosemite National Park is designated wilderness.
This demanding yet very rewarding trail will let you see many of the park's greatest sights in a single day. Its sharp switchbacks will take you from the trailhead in Yosemite Valley to the Glacier Point visitor center, which includes about 3,200-foot elevation gain.
Your final destination offers probably the best panoramic lookout over the valley. If you end up here around sunset, your experience will surely be magical. Prepare to awe at the beautiful views of El Capitan, Half Dome, Sentinel Dome, and some of the other famous peaks that attract thousands of visitors from all over the world to this park every year. It's no question that this is one of the best hiking trails in California.
This trail is really difficult and exhaustive, therefore it's not suitable for everyone. However, you can enjoy many of its best moments without pursuing the whole trail. Some of the best views can be actually found right at the beginning, after several initial switchbacks. If you can make it there, you'll be able to take some great pictures and then turn around.
| | |
| --- | --- |
| Distance | 9.6 miles |
| Elevation gain | 3,200 feet |
| Trailhead | Southside Dr, Yosemite Village |
| Difficulty | Difficult. For experienced hikers only. |
| Insider tip | If you rely on car transportation from The Glacier Point, bear in mind that the road is closed from November through May / June due to snow. |
Lands End Trail, San Francisco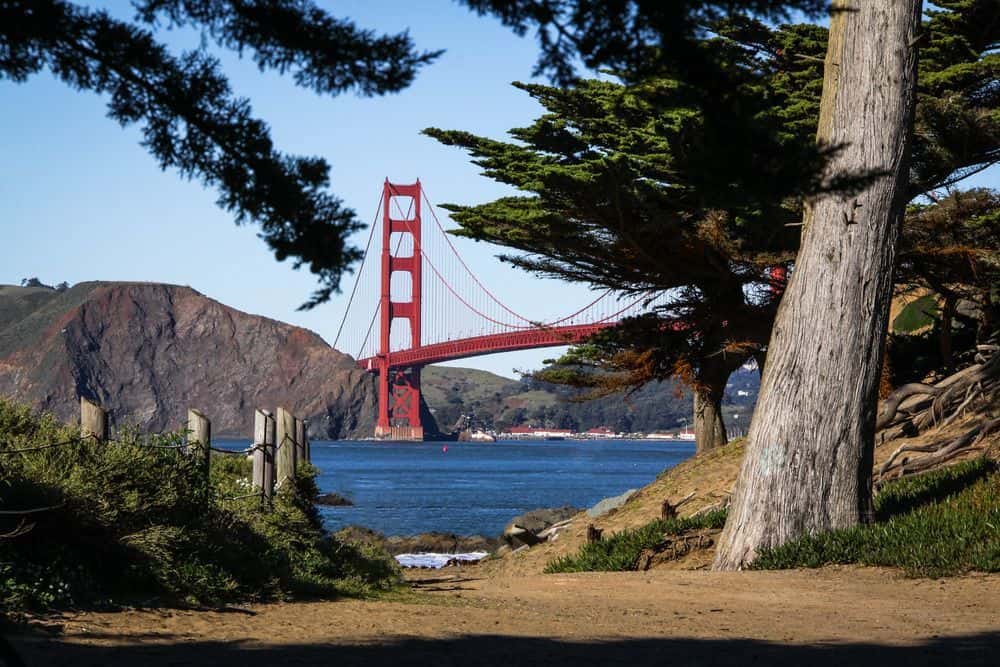 Not far away from downtown San Francisco – but thousands of miles away from its urban hustle and bustle. This beautifully rugged corner of San Francisco really feels like the end of the land.
If you're an experienced hiker and like to face challenges, you should know that this lovely walk cannot really be classified as a proper hike. On the other hand, it's a nice and rewarding stretch that can be done on a recovery day after some more demanding activity, and it's also very much family-friendly.
If you complete this 3.4 miles long trail, it will lead you along a rocky coastline lined with beautiful cypress trees. You will eventually come across many picturesque locations and views: Miles Rock Beach with Lands End Labyrinth, the ocean-fed Sutro Baths, the famous silhouette of the Golden Gate Bridge, and even several shipwrecks that got stuck in the unpredictable waters. Keep your camera at hand and take your time to explore.
If you have only limited time or energy, you can also cut the trail significantly and check some of its highlights. Paths have many junctions and every direction is clearly marked. Admission is free, although some of the adjacent parking lots may be paid. This area is, obviously, very popular during weekends. If you want to enjoy it peacefully, try to come on a weekday.
| | |
| --- | --- |
| Distance | 1.5 – 3.4 miles |
| Elevation gain | 443 feet |
| Trailhead | Point Lobos Ave / El Camino Del Mar parking lots |
| Difficulty | Easy. Can be recommended to anyone regardless of their fitness and experience. |
| Insider tip | Take your binoculars, there's a lot to explore in the distance! |
Moro Rock Trail, Sequoia & Kings Canyon National Park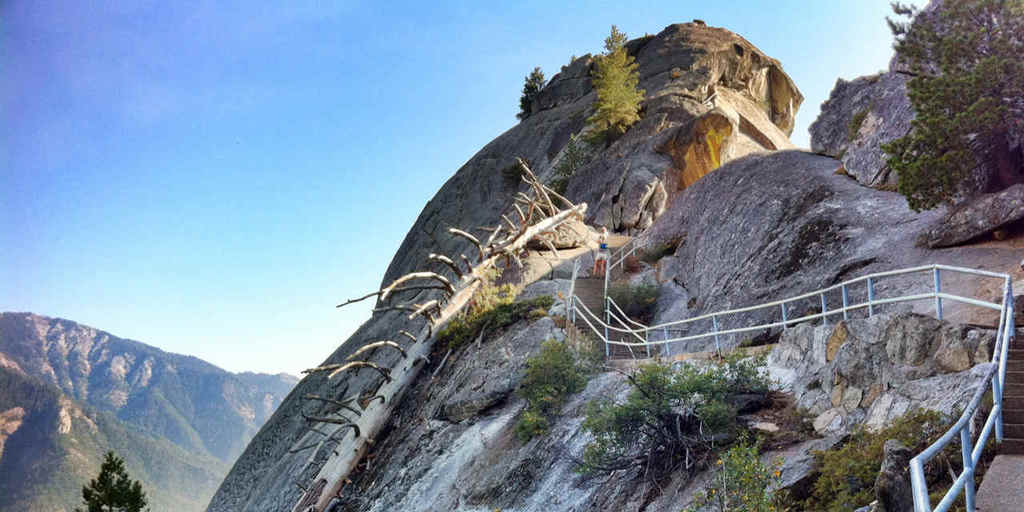 This easy and family-friendly trail scales a distinct granite dome known as the Moro Rock via a steep yet nicely maintained staircase. Views of Sequoia National Park and the Great Western Divide from the top are truly spectacular, and so is the Moro Rock (6,725 ft) itself.
This kind of granite monolith is typical for Sierra Nevada. It is formed by the "exfoliation" of rock layers, which are not firmly connected to each other.
Erosion makes granite slowly expand and create beautifully rounded formations that give this place a very unique character. The rock is popular with climbers too, but climbing is forbidden in the peregrine falcon nesting season. This beautiful species was on the brink of extinction back in the 1970s, but thanks to the prompt conservation efforts, it was removed from the list of endangered species in 1999. Nowadays, you can see falcons regularly in the area.
This trail is rather short and undemanding. If you're able to walk a longer staircase, you'll cope with this one too. The only downside is that the trail is wide enough for one person at a time only, so it can feel a bit claustrophobic when crowded. If you're getting dizzy due to the drop-offs, keep your hands on a rail and stone walls lining the path all the time.
| | |
| --- | --- |
| Distance | 0.4 miles |
| Elevation gain | 187 feet |
| Trailhead | Soldiers trailhead, Moro Road |
| Difficulty | Easy, suitable for anyone who manages to climb a staircase. |
| Insider tip | The road to Moro parking lot is seasonally closed due to snow. However, you can still walk all the way from the visitor's center, which prolongs this hike to 3.6 miles. |
Strawberry Peak, Angeles National Forest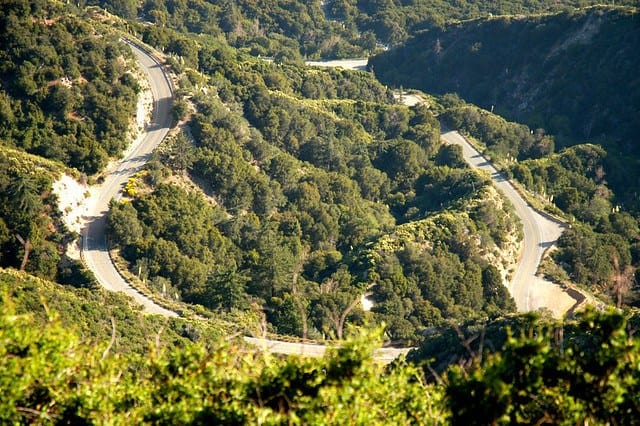 Strawberry Peak Trail is a difficult 7.2 miles long trail in the Angeles National Forest within Los Angeles county. It leads to Strawberry Peak (6,165 feet), which is the highest peak in this section of the San Gabriel Mountains. Though demanding, this trail is widely popular.
It's a great place to engage in bird watching and explore local fauna and flora – especially wildflowers in this area are abundant and beautiful.
Just don't expect to feast on the strawberries here – the peak was named only because of its shape, which vaguely resembles an upside-down strawberry fruit. However, many hikers do bring some strawberries with them and enjoy this sweet reward on the top.
The Strawberry Peak area was closed between 2009 and 2014 because of the damage caused by the Station Fire. Thankfully, there's only very little evidence of this event visible now, and the trail can be enjoyed without any limitations. For parking your car at the trailhead, make sure to get your Adventure Pass. The daily pass is only about $5.
It usually takes about 5 hours to complete this trail. At the peak, you'll be rewarded with scenic views of the Santa Monica and San Gabriel Mountains, and you can even catch a glimpse of Los Angeles skyline from here. After about 2.5 mi of mild and smooth trail, prepare for some technical sections and scramble towards the end.
| | |
| --- | --- |
| Distance | 7.2 miles |
| Elevation gain | 1,788 feet |
| Trailhead | Red Box Picnic Area, Angeles Crest Hwy |
| Difficulty | Moderate. Can be alternatively done by "mountaineers trail", which is shorter yet more demanding. |
| Insider tip | Rattlesnakes are very common in this area. Be cautious. |
Ryan Mountain, Joshua Tree National Park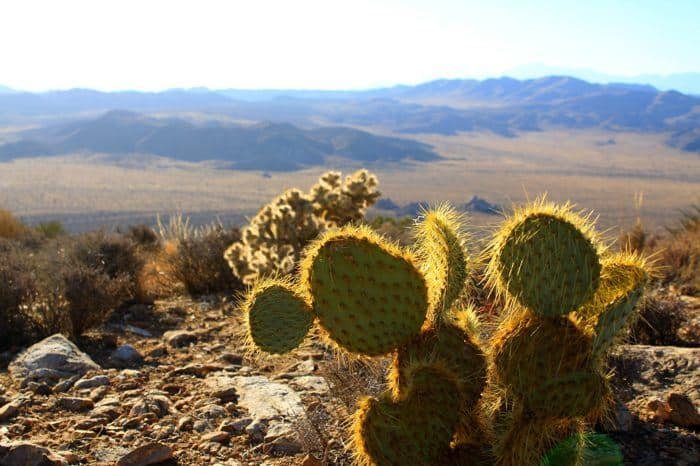 Joshua Tree National Park east of Los Angeles is one of the most visited nature parks in the state. It's named for the Yucca brevifolia, also known as Joshua tree, which is very characteristic to this part of Mojave Desert.
The park is very popular with campers, and it also contains numerous attractive hiking trails. This particular one leads to the 5,456-foot summit of Ryan Mountain, and it's the closest trail to the park's west entrance.
The Ryan Mountain trail consists of a continuous 1,200 feet climb. The ascent is relatively steep and demanding, but it leads to the point, which is considered to be the best lookout in the entire park. Panoramic view from the summit includes Pinto Basin, The Wonderland of Rocks, Queen Valley, Lost Horse Valley, and Pleasant Valley. Ryan Mountain is a great place to admire the spectacular desert sunsets too, just don't forget to bring a headlamp and watch out for rattlesnakes. Catching a sunrise here is also popular and even more secluded and romantic.
Bring plenty of drinking water and a good sunscreen. Some trekking poles for dealing with snakes could be useful too. This trail can be completed in about 2-3 hours.
| | |
| --- | --- |
| Distance | 2.8 miles |
| Elevation gain | 1,069 feet |
| Trailhead | Park Boulevard (Loop Road), Joshua Tree National Park |
| Difficulty | Moderate. |
| Insider tip | Alternatively, you can start or finish this trail at the Sheep Pass Group Camp. Stay here for the night to see the breathtaking desert night sky. |
Potato Chip Rock, San Diego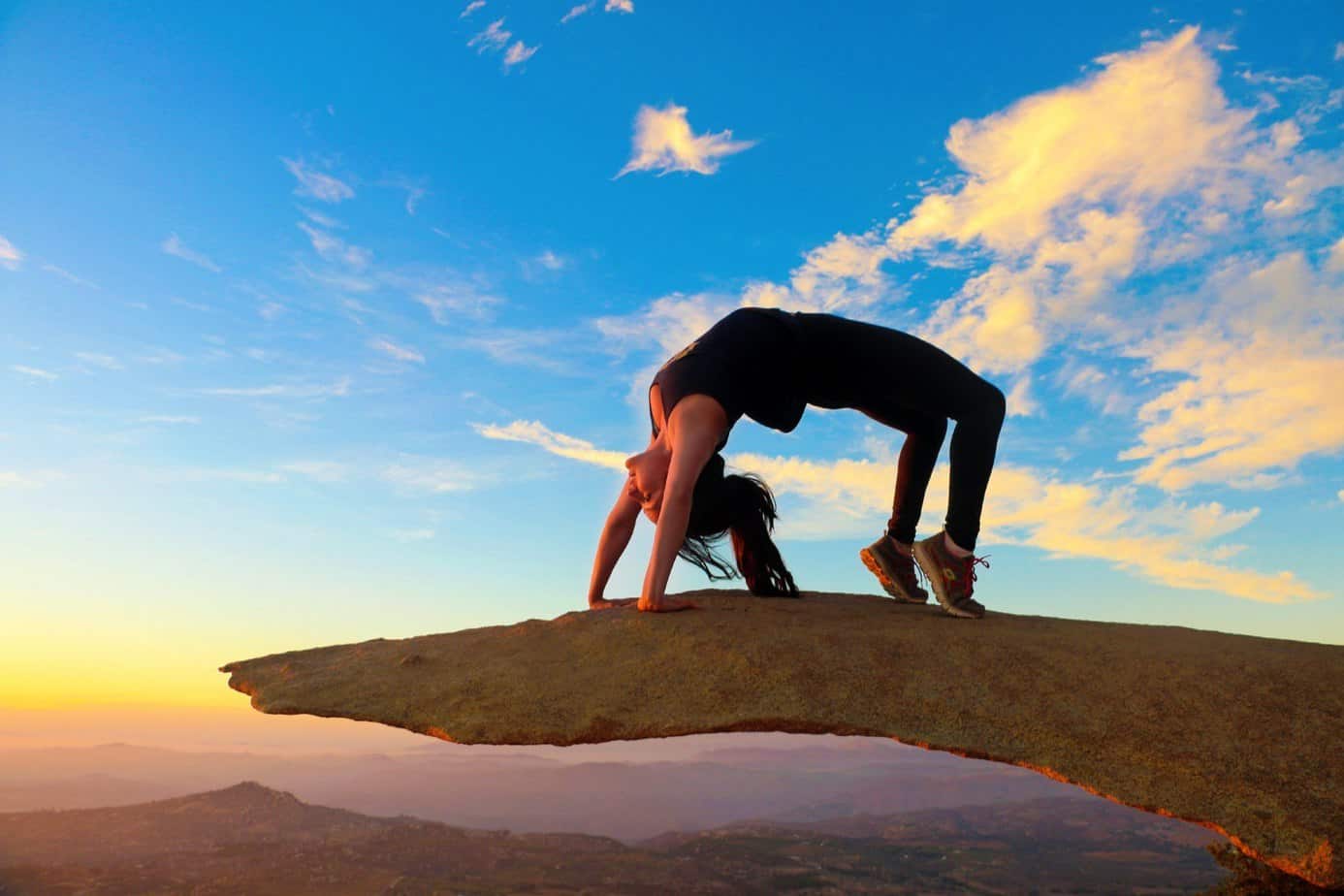 Potato Chip Rock is probably the most photographed rock formation in the San Diego area. Aside from being able to amaze your Instagram followers, you can also put this place on your bucket list as an enjoyable hiking trip. This there-and-back trail starts near Lake Poway.
You will reach Mt. Woodson peak (the trail is actually called Mt. Woodson Trail) after some 4 miles of ascent, which can be quite tiring mainly because of lack of shade. Bring enough water and avoid this trail at the peak of summer.
The picturesque rock chip formation is located 0.2 miles from the peak itself and offers panoramic views, much better than the summit itself, which hosts too many antennas to be properly enjoyed. Sitting on the Potato Chip can be a bit scary given its relative exposure, but most of the visitors eventually cope with it for the sake of a good picture.
Aside from the chip itself, this hike really is a nice exercise. Prepare to spend about 2-3 hours on the trail. Alternatively, you can also take a short route, which begins from the parking lot along Route 67. This time, you will approach the peak from the opposite direction. This route is only 3.75 miles long, but it is steeper and (boringly) paved.
| | |
| --- | --- |
| Distance | 8 miles |
| Elevation gain | 1,700 feet |
| Trailhead | Poway Wilderness Picnic Area, Poway Lake |
| Difficulty | Moderate. Can be exhaustive due to lack of shade. |
| Insider tip | If you don't want to end up in a queue for the Potato Chip photoshoot, avoid weekends and/or start very early in the morning. |
Golden Canyon/Badlands/Gower Gulch Circuit, Death Valley NP
The Death Valley National Park is America's hottest, driest, and lowest national park. This basin, spreading below sea level, is a land of extreme contrasts. Statistically, this is the hottest place on our planet, yet seeing snow on the tops of surrounding hills is not uncommon in wintertime.
Don't let its name intimidate you or scare you off – the Death Valley is actually full of life. Rare but rapid rainstorms occasionally change these arid plains into a carpet of beautiful wildflowers. On the other hand, meeting local animal species is a bit less enjoyable – beware that it's mostly a land of snakes and scorpions.
If you want to see as much as you can of this park in a single day, you can't go wrong with this ambitious loop trail. It basically leads you around all of the most exciting sights in the valley, including the Red Cathedral Cliffs, Manly Beacon, the Zabriskie Viewpoint, and the colorful labyrinth of characteristic badlands.
This trail is a classic that is highly recommended to anyone, who has more strength and stamina than time. Though it's not an extremely long neither technically difficult trail, harsh desert conditions make it more demanding than it looks. You can always decide on some of the shorter loops in this area if you feel like this is too much on you.
| | |
| --- | --- |
| Distance | 7.8 miles |
| Elevation gain | 836 feet |
| Trailhead | Golden Canyon Road |
| Difficulty | Strenuous (mostly due to heat and exposure). |
| Insider tip | While at Gower Gulch, you may come across ancient Borax mines. These shafts can be very unstable, avoid exploring them for your own safety. |
Panamint Dunes, Death Valley National Park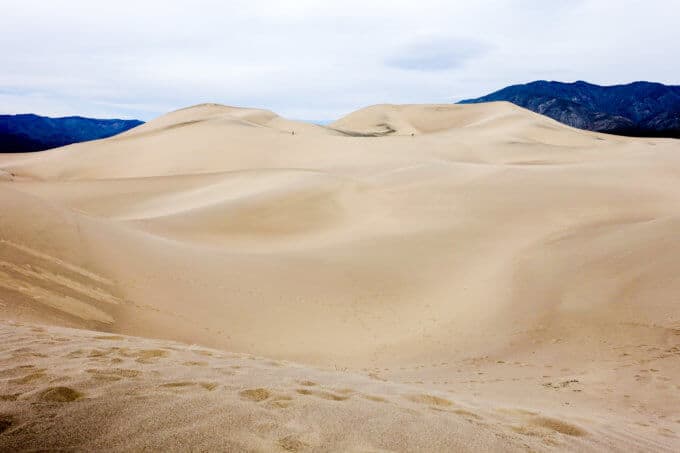 If you want to explore dunes in Death Valley without crowds around you, this off-the-beaten-path destination is your best chance. Calling it a trail would not be precise – you can make an obvious loop around these sand dunes quite freely since there's really nowhere to get lost. Just park your car and follow the silhouettes of dunes in front of you.
The terrain is rocky at first, then it transforms into hardened sand. Finally, you will find yourself on fine sand. Now you can fool around as long as you like – it's highly probable you will have this place all to yourself. Climb the highest sand ridges, admire the views over the valley, and then run freely down the other side.
Of course, you'll enjoy this craziness the most on a cloudy day, otherwise, prepare for baking in the sun without the slightest shade anywhere near.
If you want to stay overnight, you should get yourself a free permit from the visitor's center down the road. Beware of scorpions and other potentially dangerous creatures that call this desert environment their home. And, of course, take anything and everything you might need with you since there's literally nothing (besides the sand) in here.
| | |
| --- | --- |
| Distance | 3.5 miles |
| Elevation gain | 544 feet |
| Trailhead | Lake Hill Rd Parking Lot |
| Difficulty | Easy loop in harsh desert conditions. |
| Insider tip | The access road to the parking lot is rough. It's recommended to drive SUV or some other high clearance vehicle to get here. |
Four Lakes Loop, Shasta-Trinity National Forest, Trinity Alps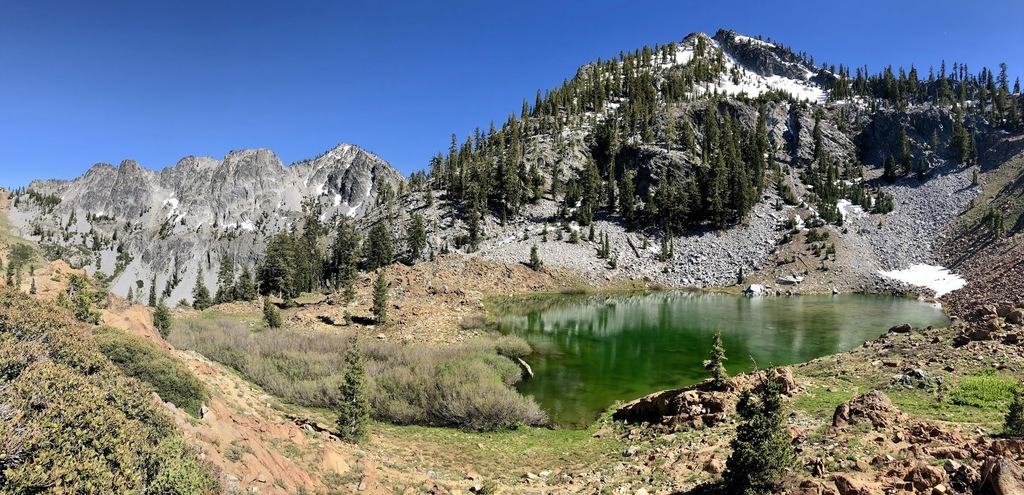 The Shasta–Trinity National Forests together form the largest National Forest in the state of California. This 2,210,485 acre combined forest consists of five wilderness areas, more than six thousand miles of rivers, and hundreds of mountain lakes.
This adventurous 2-4 days trip will lead you up the Long Canyon, and then around four alpine lakes, all of which provide perfect spots for overnight camping.
At first, you will have to complete the 5.7 miles long-Long Canyon Trail to eventually approach the Four Lakes Loop trail. This initial part includes some exposed and tiring moments, mainly towards its end. You can use the meadows along the way for camping if you already need it by now. Some hikers prefer to leave their camping gear in one place and do the whole lakes loop in a day to spare their backs from carrying large backpacks all the way.
Magnificent views and great discoveries await you around every corner. The landscape is constantly changing before your eyes, monumental cliffs are surrounded by lush greenery, emerald lakes, and panoramic views. Though this trail is relatively demanding and requires a certain level of experience, the costs/value ratio is very motivating here.
| | |
| --- | --- |
| Distance | 20 miles (if approached via Long Canyon) |
| Elevation gain | 2,050 feet |
| Trailhead | Long Canyon Trailhead, Trinity center |
| Difficulty | Demanding require overnight camping. |
| Insider tip | The Long Canyon Trail is the shortest and most popular trail leading to the Four Lakes Loop trailhead, but in total, there are four ways to get there. If you're willing to add some miles in exchange for additional sights, take the 8.2 mi long Stoney Ridge. You will get incredible vistas from Stonewall Pass as a bonus along the way. |
Upper Yosemite Fall, Yosemite National Park
As we've already mentioned above, California is home to the tallest waterfall in the US, the Yosemite Fall (2,425 feet vertical drop-off above the valley floor). To admire this beautiful fall from both below and above, prepare for a steep climb on one of the oldest trails in Yosemite National Park, dating back to the 1870s.
There's no way around it – this hike is really strenuous. From the beginning at the Camp 4 trailhead, prepare to steadily ascent via numerous sharp switchbacks lined with beautiful old oaks. They will soon give way to exposed plateaus and great views over the valley with lovely meanders of Merced River.
Some of the best views await you at Columbia Rock, which overlooks the whole Yosemite Valley and the spectacular Half Dome and Sentinel Rock. Past this point, the hike becomes a bit technical. It can be very demanding, especially in winter conditions. Nevertheless, completing this trail is totally worth the effort. You'll find yourself right next to the Yosemite Creek that feeds this majestic fall.
Just don't let its size and gentle stream bluff you into dipping in the water. Don't forget that you are right above the highest waterfall in the US. Incidents caused by ignorance of the park's safety rules happen here quite often, and many of them are fatal.
| | |
| --- | --- |
| Distance | 7.2 miles |
| Elevation gain | 2,700 feet |
| Trailhead | Camp 4 area |
| Difficulty | Strenuous. Don't step off the designated path for your own safety. |
| Insider tip | You can extend this hike to Yosemite Point or Eagle Peak for a different perspective and more panoramic views. |
The Best Hiking Trails in California – Conclusion
California is a state of great diversity, many natural superlatives, and even some genuine extremes. For an avid hiker, this means countless possibilities for great outdoor fun that ranges from high altitude rock scrambling through challenging hikes in amazing desert parks to pleasant walks along the coastline.
Though some of the most attractive sights are available only to the most experienced trekkers, you can surely enjoy California nature as a beginner too. We did our best to think about many different tastes and experience levels in our list. Hopefully, you found the inspiration you were looking for – we would be very happy to play our tiny part in your perfect California hiking adventure.
If you need some more advice on preparation, check out our guide to ultralight backpacking, which might help you cope with some of the longer trails from our list with ease and elegance.
If you're staying in California for longer and need some further inspiration, see our dedicated shortlist of the best hikes in Joshua Tree National Park. Or read about the most attractive hiking trails around San Diego. Did we forget about your all-time favorite California hike? Leave us a comment!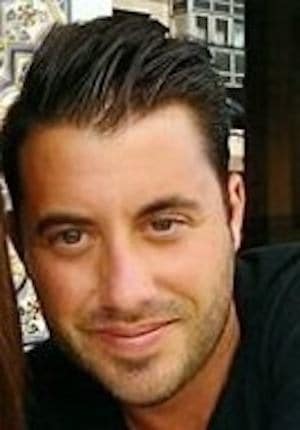 David is a strong advocate of outdoor-related activities and has many years of experience backpacking and hiking around the world, including the Italian and Austrian Alps in Europe as well as central and southern Asia.
Locally, he has also led many groups cycling through Vermont, Nova Scotia, and Wisconsin. David constantly uses and tests the latest gear for the outdoors, which in turn allows him to help others make more informed buying decisions. He's excited to share more of his knowledge and to see others enjoying the great outdoors more because of his advice and recommendations.