Our Verdict Up Front
If you're a new climber who just wants to learn the sport without torturing your feet for no reason, the Rogue as a pair of shoes is an excellent choice. And if you're a more experienced climber but you want to train in comfort and don't need the absolute highest-possible performance, again, the Rogue is the shoe for you.
Whether you're a crag regular or a gym rat, there's no denying: when it comes to choosing a new climbing shoe, the options can be pretty overwhelming.
And the stakes of getting it right can be high, since choosing the right climbing shoe for you can be the difference between sending a tough route or slipping off at the crux.
If you're considering the Five Ten Rogue, know this up front: it's an excellent climbing shoe. But it's also not for everyone, and to understand why we need to take a look at the bigger picture before diving in the specifics of this particular shoe.
[mv_video doNotAutoplayNorOptimizePlacement="false" doNotOptimizePlacement="false" jsonLd="true" key="vkcsgikqxov1o7ayzsy0″ ratio="16:9″ thumbnail="https://mediavine-res.cloudinary.com/v1557167378/fi0ivqbbhkdubb6f0eqf.jpg" title="Five Ten Rogue Review" volume="70″]
Types of Sport Climbing Shoes
Speaking generally, there are three types of climbing shoes, named for the extent to which they feature a downturned (camber) sole, and also the thickness of the rubber sole.
Neutral shoes have neutral soles – no real downturn – and their soles also tend to be relatively thick. They tend to be the most comfortable of climbing shoes, making them a popular choice for newer climbers, and climbers who want all-day comfort – like outdoor climbers who spend a lot of time on multi-pitch routes.
And because they don't sport a sharp downward curve, they're also a popular choice for crack climbing, since they're easier to work into smaller cracks. However, the thicker soles mean they offer less precision and control, and the flat soles make them less effective for climbing overhanging routes.
Aggressive shoes sport a sharp downturn, and often an asymmetric cut that makes it easier for climbers to precisely place their big toe on tiny holds. These shoes offer the best performance for tough overhanging routes, but that performance comes at the price of comfort.
Aggressive shoes are a bit like corsets for your feet, and as a result, they tend to be used primarily for short, difficult climbs like gym routes, single sport routes, and tough boulders (bouldering) – climbs where you can burn hard for short periods and take the shoes off during rest periods.
Moderate shoes are the middle ground between neutral and aggressive; they sport a moderate downturn that makes them ideal for all-around performance. They're not as good for overhanging routes as aggressive shoes, but they're also not as uncomfortable.
And while they're not as comfortable as neutral shoes, they typically offer better performance and more precision, making them a popular choice for technical climbers who need shoes that will perform well across a wide variety of routes and styles.
Separate from the neutral/moderate/aggressive spectrum, there's another choice to be made when picking a climbing shoe: laced, velcro strap, or slipper? Here, too, there are reasons for each choice. Traditional laces offer the most customizability, as they can be laced in a variety of ways and tightened or loosened for a very adjustable, personalized fit.
Velcro strap shoes offer a little bit of lace customizability, but they're much easier to slip on and off quickly, which can be helpful for resting feet between climbs (particularly when wearing uncomfortable, aggressive shoes).
Slipper-style climbing shoes are the fastest to slip on and off, and their low profile makes them a good choice for slipping into tight cracks as well, but they offer the lowest level of adjustability and customizability when it comes to their fit.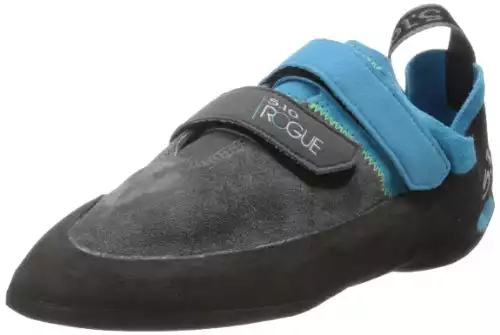 Five Ten Rogue Features
The Five Ten Rogue is a neutral climbing shoe. There are versions for both men and women, and also versions with both lace and velcro-strap fastenings, which are similarly priced.
It sports a soft leather upper for comfort, and sticky rubber Stealth® C4™ outsole that covers the entire bottom of the shoe, as well as most of the heel and a small area over and around the toes. It can be resolved when the sole (although it's thick enough that it's likely to last you a while).
The Rogue is marketed as an ideal for beginner climbers and more experienced climbers who need long-term comfort for extended training sessions in the gym (or out at the crag).
Advantages of the Five Ten Rogue
The Five Ten Rogue is exactly what it's advertised as – great beginner climbing shoes and hardcore climbing shoe for those who need a shoe they can wear comfortably for hours on end during marathon training sessions (or multi-pitch outdoor climbs).
One of its biggest advantages is the price: with an MSRP of around $100 (Check here for the latest Backcountry.com promos here), it offers newer climbers a relatively affordable entry point without making any major trade-off in quality. In fact, you're not likely to find many other shoes with Stealth-quality rubber that can beat the Rogue on price.
They're also comfortable and relatively beginner-friendly in terms of their break-in. They don't require the lengthy break-in period some other shoes do to feel comfortable or fit well, and they don't tend to stretch as significantly as some other shoe models do, either. They're the kind of shoes that a new climber could buy at the gym, slip on, and have a fun, comfortable first climbing session.
Disadvantages of the Five Ten Rogue
The Rogue's downsides are pretty much exactly what you'd expect from a high-quality neutral climbing shoe: it doesn't offer the same level of performance or precision as more aggressive (and expensive) shoes, particularly on tough, overhanging climbs.
It's worth pointing out here that for the Rogue's target market – mostly beginner climbers – this "downside" is essentially meaningless. New climbers will not yet have the skill to take advantage of the performance increases offered by more aggressive shoes, and nobody starts their climbing career on the tough overhanging routes where aggressive shoes shine, anyway.
So while it's true the Rogue can't outperform moderate or aggressive shoes when climbing highly technical routes, that's not what it's trying to do. And although it could be a great training shoe even for highly-skilled, technical climbers, most hardcore climbers will probably want to slip on a more aggressive shoe when they want to go all-out to send a tough route.
The only other real downside of the Rogue is that it can bleed some color onto your feet, depending on the colors you bought, and how much your feet tend to sweat.
It's an effect that decreases as the shoe age, but if you buy a blue pair and put in a tough, sweaty session, be prepared for the "smurf foot" effect. It's not extreme, and it washes off easily, but it may be something to consider if a little color bleeding bothers you. That said, this isn't a problem that I've noticed much with my own pair, and it's not a sure thing you'll see it with yours, either.
Aesthetics
Aesthetics shouldn't be a primary concern when choosing a climbing shoe, but there's no point in denying that some part of us still wants to look cool when we're in the gym sending that Proj.
Whether the Rogue will help you on that front really depends on your taste. It features subdued, classical styling that won't stand out, and it's the aesthetic opposite of its competitor the La Sportiva Oxygym, which has brighter colors and a highly intricate, technical-looking design.
Whether that's a good thing or a bad thing depends on your preferred climbing look; if you want to stand out on the wall, there are definitely flashier options. But the Rogue's just-the-business design fits well with the shoe's performance as a no-frills, all-around comfortable climbing shoe.
Five Ten Rogue Sizing
Finding the right fit for a climbing shoe can be difficult, particularly for newer climbers. Climbing shoes, even neutral/comfortable shoes like the Rogue, are meant to fit quite snugly. No climbing shoe is ever going to feel as comfortable or roomy as a running shoe, for example.
When buying a new shoe like the Rogue, climbers should keep in mind also that climbing shoes will stretch and expand over the first few months of their use, meaning that you probably want to start with an especially snug, borderline-uncomfortable fit, even when purchasing a neutral shoe like the Rogue.
Five Ten Rogue Alternatives
Here are some alternatives that our team has also reviewed:
Should you buy a pair of Five Ten Rogues?
The answer is, as always, it depends.
If you're a new climber who just wants to learn the sport without torturing your feet for no reason, the Rogue as a pair of shoes is an excellent choice. And if you're a more experienced climber but you want to train in comfort and don't need the absolute highest-possible performance, again, the Rogue is the shoe for you.
You're not likely to find a shoe that does better at a better price point, although there are other similarly good neutral shoes at the same price (like La Sportiva's Tarantula and Oxygym models).
There might be reasons (like aesthetics) for you to prefer something else, but rest assured that the Rogue offers exactly what it promises: all-day comfort and all-around performance. It's not the shoe to wear when you're trying to send that brutal overhanging V10, maybe, but for the average climber on an average day, the Rogues will absolutely get the job done.
Bottom Line: The Five Ten Rogue climbing shoes are a great option for climbers looking for excellent VALUE (see this listing). Kind of like getting a Honda. You know you are getting way more than you paid for, even if it's not a Rolls-Royce.
Further Reading: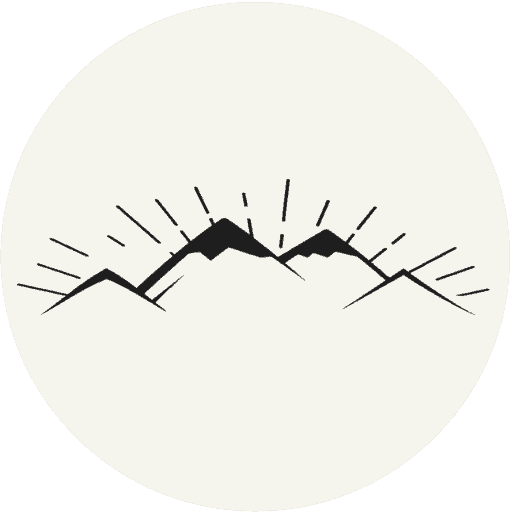 The All-Outdoors Guide team is comprised of enthusiastic experts that enjoy helping others that aspire to be better at outdoor fun. Part of that is making sure you have the right gear and information when it's time to go out and have fun. Some of our team have accomplished amazing feats like climbing 6000 feet to the top of mountains, others have explored every dirt trail they could find and we even have some people that have backpacked solo on various continents. No matter what our readers want to learn and do, our team is here to help them accomplish those goals.