Hybrid boots are popular for hikers that also need something strong enough to handle rigorous outdoor work.
A popular feature in work boots, a simple protected toe, is often lacking in normal hiking boots. Thankfully there are a few brands that produce work hikers that give you the best composite toe hiking boots.
Here are 5 of the best composite toe hiking boot options on the market.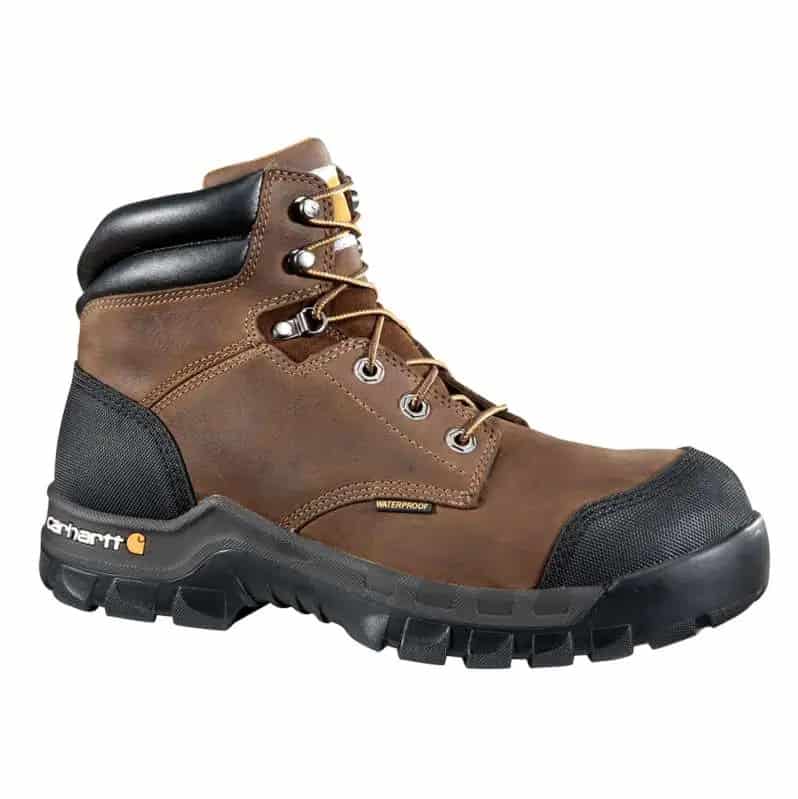 Carhartt is a popular brand of footwear and apparel designed for those who spend a significant time outdoors, recreationally or for work.
Despite being known as a source for work/construction boots, Carhartt does produce a few versatile hikers, like the basic Rugged Flex Composite Toe Work Hiker.
Best Overall Pick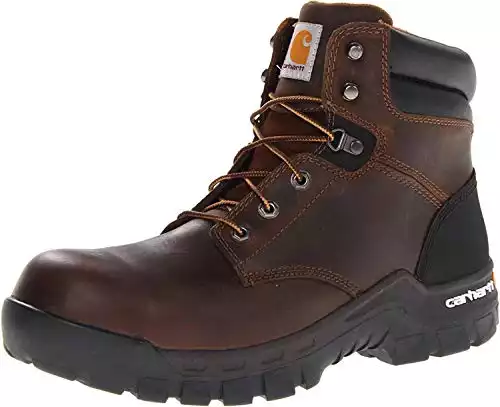 Boot Details
Grey boot color with black accents
Available in medium or wide widths sizes 8 to 14 + half sizes
Split leather + nylon upper
Super lightweight construction
100% waterproof + excellent breathability
Composite toe meets ASTM F2413-11 EH standards
Rubber outsole for traction + oil/chemical resistance
PU cushioned insole + Strobel pad for shock absorption
Carhartt claims these boots are 100% waterproof thanks to the Storm Defender membrane that keeps out moisture while maintaining a comfortable level of breathability. When it comes to hiking you either want a boot that isn't waterproof and dries fast, or a boot that is absolutely waterproof with good breathability. If you don't want to chance wet feet, these would be a reliable pair.
While useful on the worksite, the shock absorption quality of this boot is great. The CMEVA midsole and PU cushion insole provide protection and a bit of bounce while hiking downhill. Traction on these boots is decent, despite not being a Vibram sole so commonly used.
With worksites in mind, the soles are slip-resistant to prevent accidents when oil or chemicals may be spilled. This feature makes these boots great for hiking over the wet or muddy terrain.
These hikers are budget-friendly price and come in a huge range of sizes and half-sizes, which is a great benefit for those that wear a hard-to-find size. These boots are also a nice option for those that don't like the heavy feel of ankle-height boots. While these reach the ankle, the lightweight construction makes them feel like hiking shoes.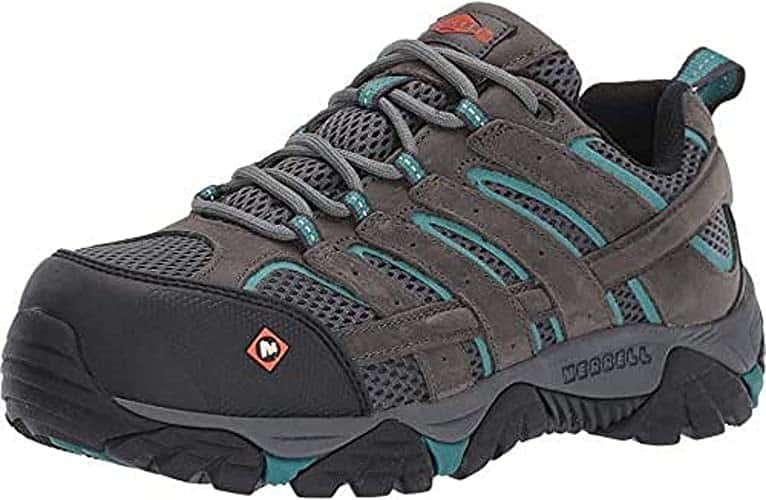 Merrell has been around for decades and produces a range of different styles. There are famous for their work boots but have a few select models that are made specifically to handle the rigors of hiking.
Their Vertex Mid Waterproof hikers are everything you could want in a boot – they are breathable, waterproof, comfortable, and look great. The addition of a composite toe and other construction makes them safe for use on work sites as well.
Premium Pick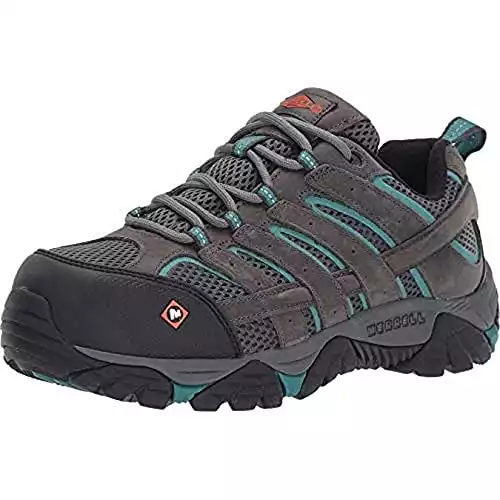 Merrell Vertex Mid Details
Black and grey hiking boot
Available in medium or wide widths sizes 7.5 to 15 + half sizes and "wide" sizing
6″ ankle height
Full-grain leather and breathable mesh upper
Bellows tongue to keep out debris
ASTM F2413 standards for electrical hazard protection
Top hooks for locking laces
Oil and slip-resistant rubber outsole (Mark II tested)
Composite safety toe + rubber rand for extra durability
COMFORTBASE contoured footbed and midsole
At first glance, you can tell these are tough boots that are designed with both aesthetics and usability in mind. The full-grain leather upper is combined with the mesh upper combine to provide the best of both worlds – the rigidity and durability of leather with the breathable and give. Wearers find that the stitching is very well done and these boots have a long lifespan, even with daily wear.
The COMFOTBASE rubberized EVA sole is ideal for use on hikes as it gives enough traction for most trails while not being too aggressive for other activities. The sole is well-attached and isn't prone to coming apart from the boot.
The rubber toe rand also helps to protect the toe and boot from rocks or other terrains. The composite toe is designed for workplace safety but also functions as further toe-stubbing protection while hiking.
Overall the boot is surprisingly breathable, with wearers finding that hiking or working in hot temperatures is more comfortable with these than many other models. It is waterproof enough that puddles or hikes through wet brush won't soak your feet. As an all-around hiking/work boot, these are an excellent deal (pick them up right here on Amazon).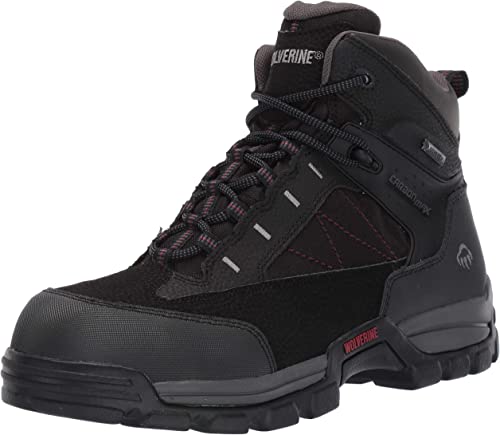 Wolverine is another brand synonymous with footwear for outdoor and worksite use. They mostly have steel toe boot but they do have a couple of models available with a non-conductive composite toe. The Amphibian GORE-TEX boot has a CarbonMAX toe which is stronger yet lighter weight than traditional metal toes.
Details
Two-color options – Brown and Black
Available in medium or extra wide width in sizes 7 to 14 + half sizes
A mix of leather and synthetic upper to keep weight down
GORE-TEX membrane lining to keep out water
Removable insole with a mesh sock liner
EVA compression-molded EVA midsole
Super strong cement glue construction
This is a fairly simple boot. As the name suggests, these are 100% waterproof boots that are ideal for hiking in the wet brush, walking through puddles, and any other situation where you want to save yourself from damp socks. The GORE-TEX + mesh lining ensures that your feet can breathe and stay cool.
There is one thing to keep in mind if you're interested in these boots, and that is the sizing. The majority of wearers find that these boots run anywhere from a half- to a full size larger than normal boots. Be sure to size down one size for most wear or only a half size if you plan to wear them with thick socks.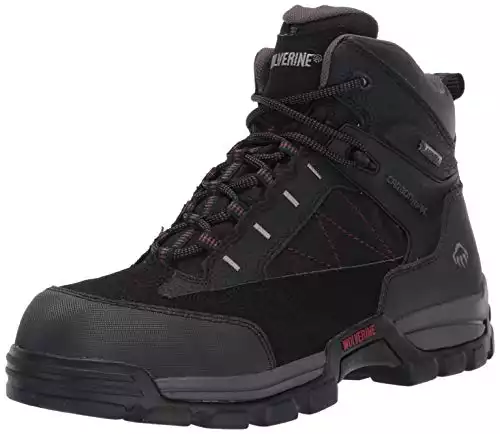 Wolverine Men's Amphibian Work Boot | Amazon
This durable 6-inch work boot offers comfort and protection in a lightweight, breathable design, with a waterproof Gore-tex membrane lining. It's built with a non-metallic safety toe, a removable full-cushion footbed, and an oil and slip-resistant rubber lug sole.
Buy at Amazon.com
We earn a commission if you click this link and make a purchase at no additional cost to you.
02/14/2023 02:24 pm GMT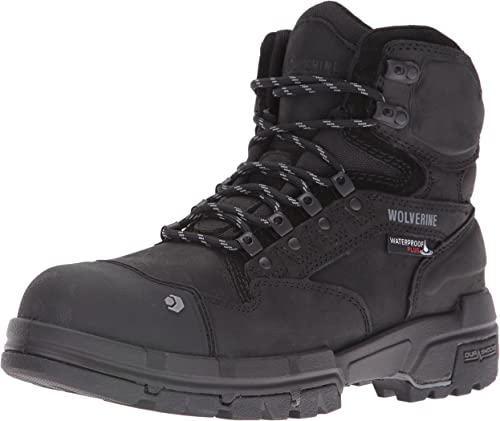 The Wolverine Men's Legend is a durable higher-end true composite work boot, capable for hiking as well.
Some of the highlights include:
100% leather construction, with pure rubber sole
6-inch shaft for full ankle and lower leg coverage
Unique cushioning design for full-day standing comfort
Proprietary h-plate suspension for stabilized foot support across four separate quadrants
The only drawback for these hikers are that they typically are priced close to $150, making them one of the more expensive options in this list.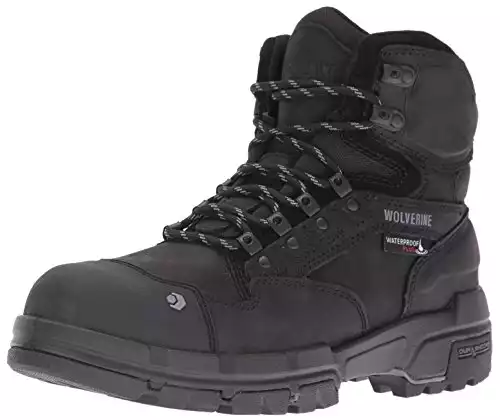 Wolverine Men's Legend 6 Inch Waterproof Composite Toe | Amazon
The new Wolverine Dura shocks is a fully integrated energy return system adding comfort into every step so you can power through the job. Engineered for performance. Built to last. Wolverine Dura shocks.
Buy at Amazon.com
We earn a commission if you click this link and make a purchase at no additional cost to you.
02/14/2023 01:04 pm GMT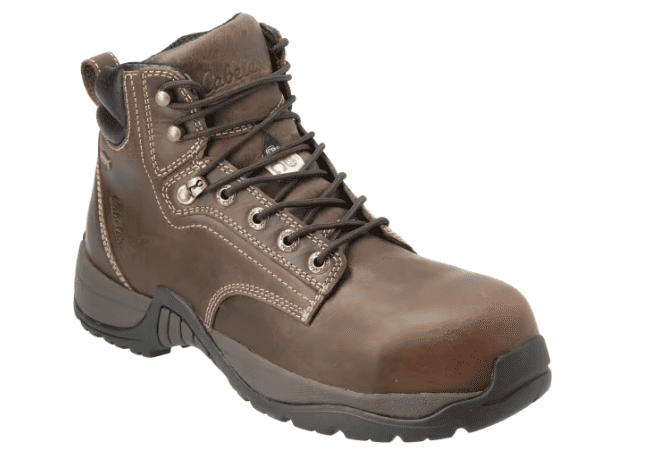 It doesn't come as much of a surprise that Cabela's makes a hiking boot with the features of a work boot. These 5″ work hikers are a little shorter than most other boots but provide adequate ankle support for the active individual.
Details
One-color option – Brown/Green (mostly brown boot with dark green accents)
Medium width boot in men's sizes 8 to 13 + half sizes
Nubuck leather + nylon upper
Odor-resistant lining and insole
TPE cobblestone footbed offers breathability to keep feet cool
A composite toe with rubber toe rand + rubber heel guard for protection
Cabela's 4MOST Dry-Plus laminate technology for water-resistance
Oil and chemical slip-resistant sole
Cabela's 5″ Roughnecks are heavy duty boots that are made for serious outdoor work. Many of its features also make these appropriate for hiking and similar outdoor activities.
The upper of these boots are a combination of Nubuck leather and nylon which have been treated with Cabela's 4MOST laminate technology, which promotes breathability while keeping moisture away. While these boots aren't completely waterproof, they are highly water-resistant as well as blood- and oil-repellent. This laminate is good for the life of the boot and resistant to daily wear and tear as well as abrasions.
Comfort-wise, these boots continue to impress. The microfiber lining is antimicrobial in nature to keep your feet healthy as well as happy. The TPE footbed is specifically designed to prevent foot fatigue by providing excellent stability and shock absorption, which again make it ideal for hikes.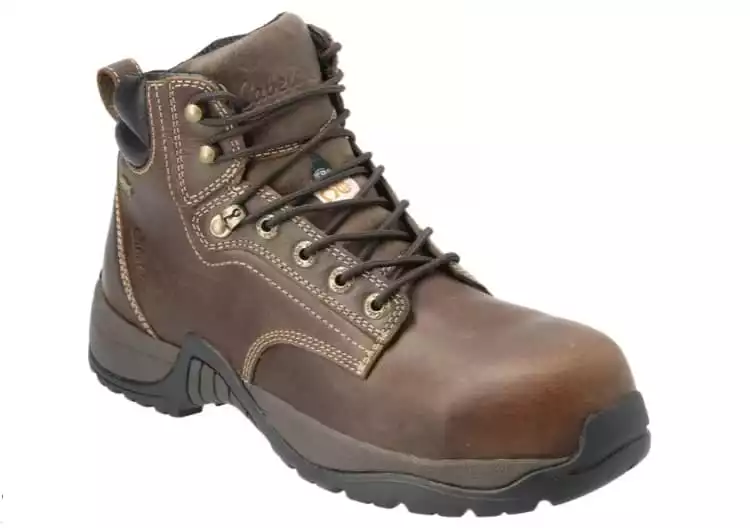 Roughneck Composite Toe Work Hikers | Cabela's
A versatile work boot with top-level protection, Cabela's Roughneck Ledger CSA Waterproof Composite Toe Work Boots for Men take care of your hard-working feet 7 days a week. Built to meet CSA Green Triangle standards for impact resistance and sole puncture resistance and White Rectangle standards for electrical hazard protection, this boot offers superior protection on the job.
Check Price
We earn a commission if you click this link and make a purchase at no additional cost to you.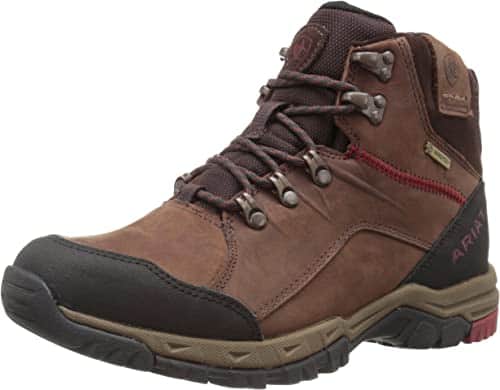 Unlike the other boot manufacturers featured, Ariat is better known as a supplier of equestrian footwear. However, they do have a line of hiking boots and there you will find the Skyline Mid GTX[.
Details
Two color options – Frontier Brown or Chocolate Brown
Available in medium or wide widths in sizes 7 to 14 + half sizes
Upper made primarily of full grain + suede leather with GORE-TEX
Mesh lining for breathability
Padded tongue and upper for comfort and debris protection
Tec-Tuff composite toe
ATS midsole technology
DuraTread sole
Ariat sells this boot for hiking and backpacking activities, though it doesn't give a pack weight limit. Nevertheless, these boots are quite sturdy and can handle long-distance hikes with ease.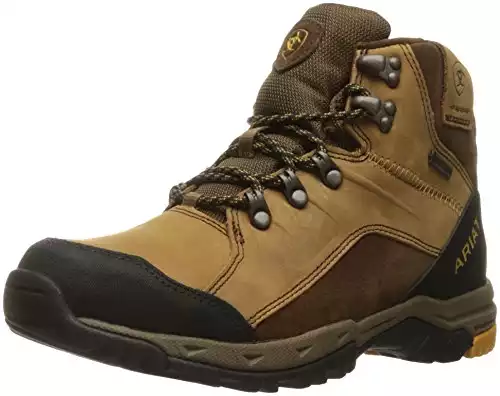 It comes as no surprise that this boot is mostly made from leather – full-grain and suede to be precise. This makes gives them some rigidity for support and offers more durability than synthetic materials. Wearers find that these boots will last quite a long with proper care and only get better with age.
Ariat's ATS midsole technology is based on a special footbed made of moisture-wicking materials combined with gel for maximum comfort and cushion.
ATS also includes the EVA midsole for shock absorption and a shank for overall support. The rubber toe rand combined with the Tec Tuff composite toe is all you need for total rock protection. Finally, the DuraTread sole boasts multi-directional lugs so you get maximum traction.
Final Take on Composite Toe Hiking Boots
Composite toe hiking boots may be difficult to find but if you require the extra toe protection or need boots for outdoor work involving hikes or traversing tricky terrain, it's worth the money to purchase one of these 5 options.
Best Overall Pick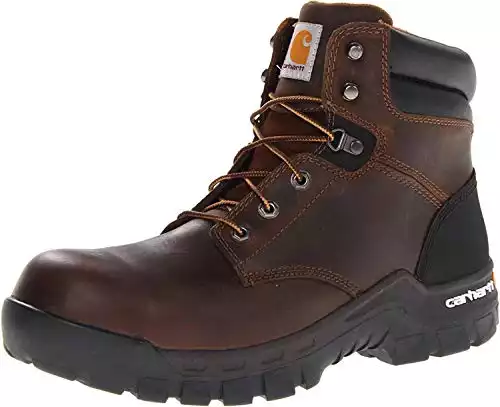 Further Reading on Hiking Boots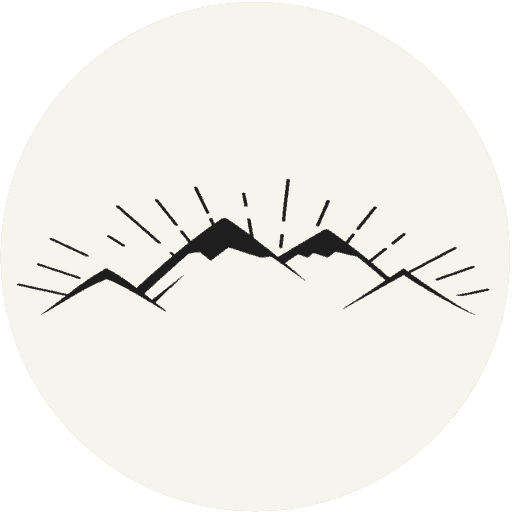 The All-Outdoors Guide team is comprised of enthusiastic experts that enjoy helping others that aspire to be better at outdoor fun. Part of that is making sure you have the right gear and information when it's time to go out and have fun. Some of our team have accomplished amazing feats like climbing 6000 feet to the top of mountains, others have explored every dirt trail they could find and we even have some people that have backpacked solo on various continents. No matter what our readers want to learn and do, our team is here to help them accomplish those goals.